The new issue of
Knitty
is up! I totally have to make these: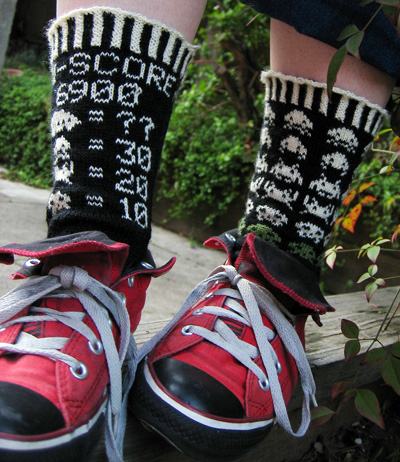 I can just hear the atari sound effects. :)
I've actually gotten a fair bit of knitting done recently.. finished stuff & everything, but I don't want to show it yet cause it's baby stuff for
Joanne
and I want her to be somewhat surprised when she gets it!
Not much else is going on with me. Honey has been rather busy lately, running off every weekend to do sound for
Gandalf Murphy And The Slambovian Circus Of Dreams
! I am so happy for him. He really, really, really enjoys working with these guys, and they are all so sweet! Not only is their music wonderful, but they even have their own kick-ass brand of
coffee
!
That's about it here. There have been no more squirrel casualties... let's hope it stays that way! :)