Last weekend Kris was in New York & Connecticut doing sound for
Gandalf Murphy
. Apparently, the little town he was staying in had a yarn shop. So my dear hubby, the sweet man that he is, decided to browse their selection to see if there was anything special he could bring me. He decided on this: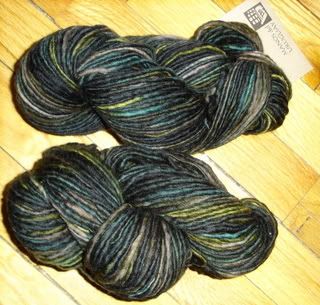 Anyone have a suggestion on what to make with 2 skeins of Manos?
So, while Kris was off buying me yarn, I spent Saturday afternoon with my sister and my niece. We had a lovely lunch, I let my sister fill her ipod from our music hd, and then Autumn stayed with me while Dawn went off to bowling. We rented a movie, and about 45 min in this happened:
Other than that, the weekend was pretty uneventful. We had warm weather on Saturday, which turned the back yard into a pond. Corrina loved it!
Thankfully she didn't notice this...