Hi All!

Got lots to share today. First off, here are some picks from last nights Knit-In: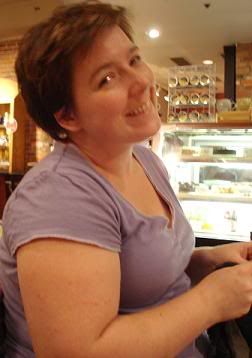 Here is Janella with such a cute smile! She was very happy to spend a few hours away from the job hunt and workin on her sweater in the round!
Good Job Janella! ;)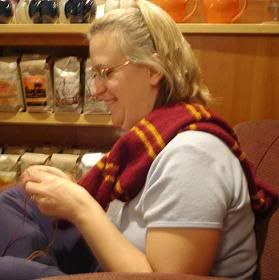 Denise is making great progress on her Gryffindor Scarf! She'll be damned if a Slytherin will beat her!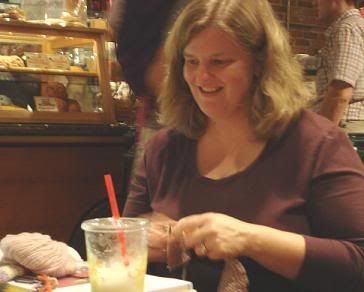 Lynne, recovering nicely from a nearly debilatating case of Brain Freeze! She also made a lot of progress on the capelet.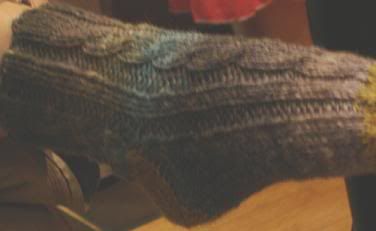 Elisha once again comes through with the beautiful sock! This one was made with Noro (mmmm, Noro...) & she melded the pattern together using aspects from a couple different patterns. She totally needs to write that down & share!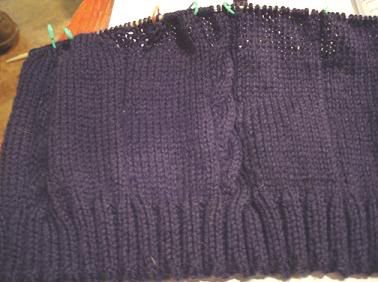 Here is my sad little Torgeir. Sad? Well I was sooo concerned about not messing up the motif that I completely forgot to keep the cables up.. I had to rip it all out again shortly after this was taken. (sigh) I will finish it someday!! I just have to remember not to bring it to knitting.. too much going on, can't concentrate on what I'm doing. What I need to do is get the yarn for the *bleep* (hi sis! not telling!) which is pretty easy & I will be less likely to screw it up while chatting!

Things at home are still going pretty good. Joanne thinks that my honey simply had a little freak out fest & is better now. I hope so. I tried to talk to him about it a little last night, but he said it was "all good". So there ya are. He better not just be lulling me into a false sense of security or I'll beat his ass!

Saw Mirrormask this week.. disappointed. (sigh) There were some really neat things about it.. but it just tended to be boring & the plot didn't make much sense. (sigh)

BTW- Have you seen Serenity yet? Hmmm? Joanne & Janella have! What the hell's your problem? Go! See it now!! ;)

Ok.. now some silliness. Like heart-warming family movies? Like Kubrick's masterpiece The Shining? Dude.. you totally have to watch this.

That's about it. Need to get started knitting before Lost comes on or I''ll screw the damn thing up again. :)