Two days ago I started on a sock for my sister. I made her a pair for xmas that she has already worn through! LOL She begged me for more, so I am planning on making at least 2 pairs for her b-day which is May 10th. This is what I have so far...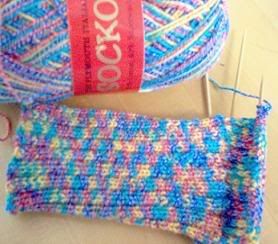 I'm using Sockotta by Plymouth yarns which is a Cotton/Wool/Nylon blend & should wear well. I am almost done with the heel flap & should turn the heel tonight. Isn't the color fun? My hubby (Kris) called it "Happy Socks". LOL They certainly are!

In other news, yesterday I went upstairs to discover my oldest boy Barnum indulging in string licking...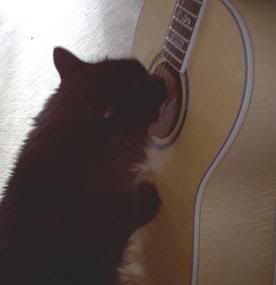 He seems to love the metalic tang of the steel string guitars, because he only does this on the steel & electric guitars! LOL Drives honey crazy..
So, while I took a pic of Barnum I decided it was unfair to only highlight him, so for your kitty pleasure here are the others...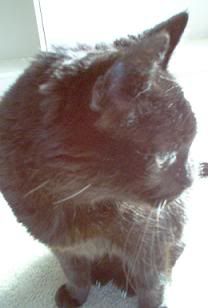 This is our eldest, Klio. She is quite the daddy's girl & it has taken her 10 yrs to warm up to me, but finally accepts me. Here she is looking her aloof best. Poor thing is starting to decline at age 17 & has recently exhibited signs of senelity. :(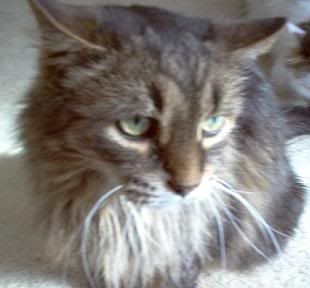 Here is Keetcha, our other "biddy kitty". She is 17 as well & is technically my MIL's cat. We have been watching her for over a year & she will be returning home to her mommy soon. This will be hardest on our youngest, Windle, who is quite attached to her.. She beats him up all the time (she likes em young, LOL) Here are a couple pics of their "Harold & Maude" relationship.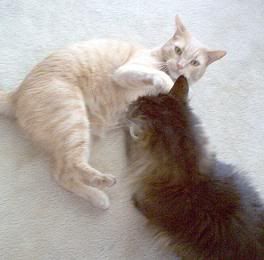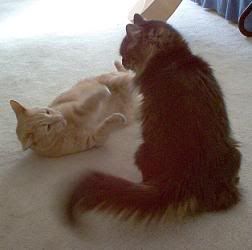 Windle is just over 3yrs old & entered our lives shortly after the passing of my FIL. He is quite the scamp & is extremely affectionate.. he's my little baby!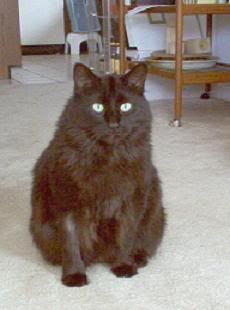 This is Bailey, Barnum's twin sister. They will be 8 in May. She is highly neurotic, quite stupid & very sweet.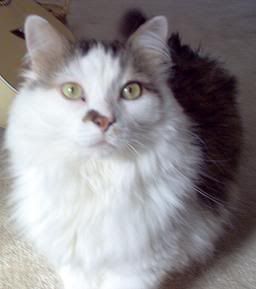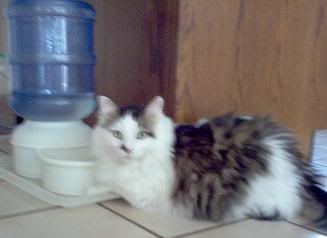 Lastly, 2 pics of our pretty boy Arlo. He is a big boy. 30lb Maine Coon, about 5 yrs old. The second pic is him playing body guard to the water dish.. this always cracks me up!

So there are my babies. All were rescue kitties except for Barnum & Bailey, who were from a friend's cat's litter.