Had a wonderful time in NYC this weekend. I will not bore you with a complete discription, but I will give a brief synoposis. :)

Friday we checked into our centrally located crap hotel. If you ever go to Manhattan, do yourself a favor & don't stay at the Park Central Hotel. Crap service, crap rooms w/outlets that didn't work! But it was only a block off Broadway & across the street from Carniege Hall.

Anywho, after checking into the craptel, we subwayed down to the fashion district so that I may indulge my yarn fetish at Habu. What a strange little shop, but oh what wonders lurk there! I ordered their sample packet, which should arrive in a few weeks. Since I was already buying something & was going to leave empty handed I simply had to find something else to tack onto the bill. :)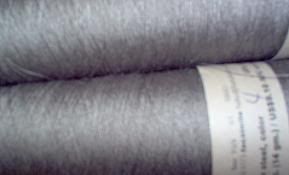 silk/steel blend


The yarn is actually much more brown in person, but this pic does show off the shimmer. Its 69% silk, 31% stainless steel. Very fine, laceweight yarn. Comes in 1/2oz. skeins (307 yds) for $9.10. I got 2 skeins, which I figured would be enough to make a lace shawl or shrug.. or at the very least a scarf! Now I just need to find or design the perfect pattern.
After yarn shopping we had a fabulous dinner & then went to see an excellent show.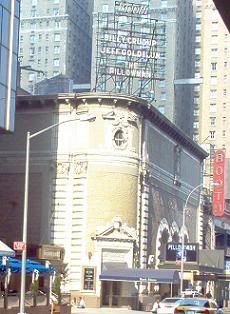 The Pillowman is a limited run show at the Booth Theater, which is a very intimate theater. It stars Billy Crudup & Jeff Goldblum. My husband & I were blown away. Excellent script, fantastic acting! Its a very Kafka-esqe black comedy. I wish I could have got a better shot of the sign, but you can see the coolness
here
.
Saturday was spent wandering Midtown & Greenwich Village.
Sunday, my honey's b-day, we saw the movie The Aristocrats (very sick, but funny) and then saw a matinee of Spamalot!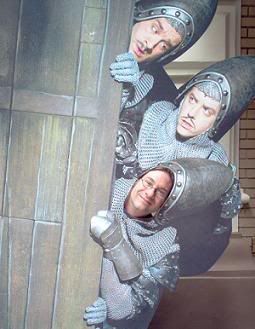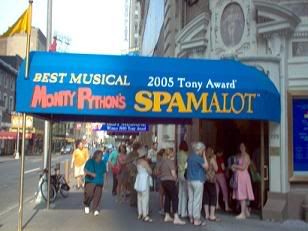 The show was a blast. Tim Curry played an excellent Tim Curry (as usual), David Hyde Pierce was wonderful, and Alan Tudyk (of Firefly fame) was fantabulous! Although the Lady of the Lake really stole the show. What an amazing voice! If you are a Monty Python fan you will love this play!
After that we had a phenomenal meal in Little Italy (
prosciutto & melon, mmmm) & did some more wandering.
Sunday we wandered through Central Park.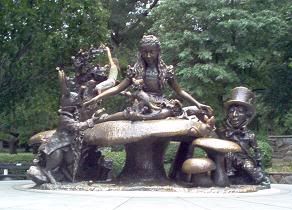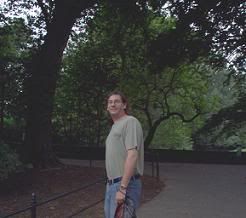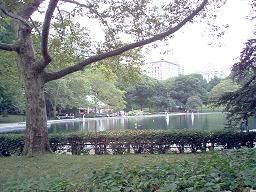 That's about it. Had a great time, but certainly wouldn't want to live there. Too expensive, crowded, comercial, & polluted!
I will leave you with these two iconic images...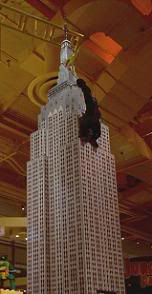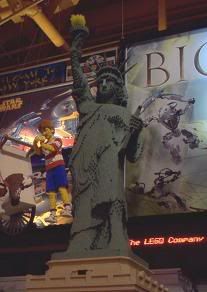 never got to the real things,
so here they are in legos :)