Notice the new pic? Mr. Windle has been scheming. He didn't like all the attention Arlo was getting as my blog buddy. So last night he tried several poses for optimum cuteness, this one won.

On to the news.
The nice thing about temping is the occasional "blow off" position. Today I was filling in for a receptionist that was out sick at a very small insurance company. They told me to bring a book because I would just be answering the phone & there can be a lot of dead time. I didn't even have computer access. So I brought my knitting & FINALLY finished my sister's second sock. Hey, its only a week late! I even had time to knit my very first kitty toy...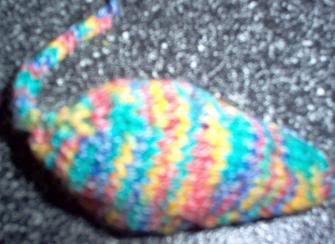 mmmmmousey!


The I filled the above with organic catnip as soon as I got home. 5 minutes later it was soaking wet & I had 5 very stoned cats on my hands! At least they like it! It was sooo easy to make & I just winged it. I started with an i-cord tail & then kfb up to 6 sts and joined. I worked in the round adding 3 sts every other row until I was up to 36 sts. Then I started decreasing at the ends of the top 2 needles every other row. Gradually working down to a point & decreasing on the bottom so the total sts on the top 2 needles = the bottom needle. Viola! instant mousey! I could have added ears, eyes & whiskers but figured the cats weren't going to care so why should I! :)

In other news,I know I am probably the last knitter to finally do this... I read E.Z.'s Knitting Without Tears. Why did it take me so long? I guess I'm just stubbonr & contrary. When everyone tells me I *must* see or read something I usually don't just to be different. Nope, I have to go my own way.

Well, last week I was at the library & it was just sitting there. I caved. I checked it out. Now I know what everyone was talking about. She has a wonderful writing style! I can't say it changed my whole view of knitting, but she did describe a few things in such a way that I now understand it with perfect clarity & wonder what the heck was giving me problems in the first place!! So, I guess I am a convert. I'm not joining the church or nothing but the book is now firmly in my "wish list".