Yesterday was the very last day at A Gathering Basket. I got an email on Friday that everything would be marked down to 50% for the last 2 days, so Kris & I decided to swing by one last time on the way out to the Grass Lake house.

It was finally starting to look picked over, which made me happy because I was concerned that the owner would be stuck with a lot of stock. Despite the relative emptiness, I was able to find this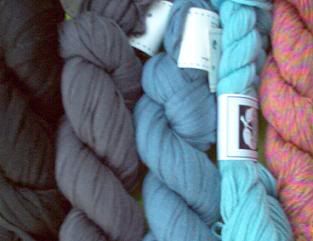 The 3 skeins pictured on the left are all O2 (Oxygen) by Berroco. Its a 50/50 blend of Merino & Acrylic & is a knitted ribbon yarn. Very soft & light weight. Perfect for a summer top. I got 10 skeins in black, 9 in grey & 2 in blue.

2nd from the right is Classic Elite's Premiere Fil Extrodinaire; a 50/50 blend of Pima Cotton & Tencel. Oh so soft! I got the last 2 skeins.

And on the right is Classic Elite's Flash, 100% Mercerized Cotton. Again, I snagged the last 2 skeins.

Ok, now we get to the overwhelmed part of the story. Initially I had only grabbed 4 skeins of the O2, 2 blue & 2 grey, as well as the Classic Elite yarns because even at 50% off I just couldn't afford it. I get to the checkout & the owner (forgive me I can't remember her name) is excited that I grabed the O2 because it is sooo lovely & has been discontinued. She tells me to go & get the rest of it SHE'S GIVING IT TO ME! I am completely flabergasted! This stuff retails for $9.95 a skein! I kept asking her if she was sure & she said that she would just have donated it to someone else & she was sure I would do something lovely with it. Not only that, but she didn't even charge me the full amount on what I had brought up previous to the gifting! 25 skeins of yarn, retail value $230....for $10!!!

Before I left she made sure she still had my email address & gave me a hug! I walked out fighting off tears & completely speachless. I am definitely going to miss her & the store. It was my lifeline when I lived in Grass Lake. I used to go in there at least twice a month.

I feel the urge to charity knit.