At Tuesday knitting here in Ann Arbor,
Lynne
brought in a lovely little skein that she had spun & which she had plyed using the
Navajo Method
. Now, I have seen this several times but had never tried it. I had a bunch of blue-faced leicester sitting around that I hand painted a few months ago just waiting to be spun, so of course it just HAD to be spun immediately & navajo plyed.
For your amusement...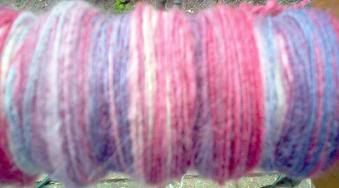 look at that lovely even single!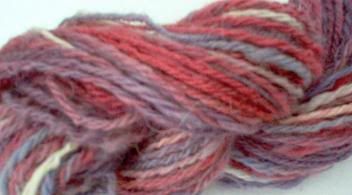 look at the lumpy, uneven ply!


Ok, I am being too hard on the poor thing! It actually is quite fun & I love the effect I get. Unfortunately I haven't yet figured out how to smoothly do this & kept wishing I had a third hand. I found that using a lower ratio & adding a little tension to the lazy kate (via foot pressure) helped a little. Even so, it came out way overspun & I ended up running it through again in the opposite direction to loosen it a little before setting the twist.

I remain undaunted & have 2 more small rovings of this left to spin. Hopefully I will have the hang of this before I run out of wool! :)