This afternoon Denise discovered herself unexpectedly childless! An email was sent out... Cafe Felix, 7pm... knitting. How could I resist?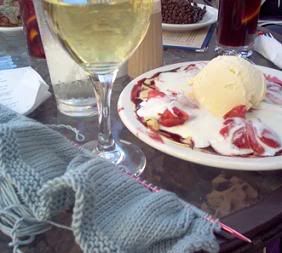 Cathay, Chardonay, & Crepes... Oh MINE!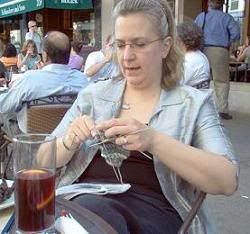 Denise looking fine in her Gorgeous silk jacket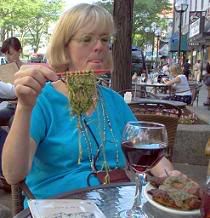 Libby is much more intent on her dinner
than her knitting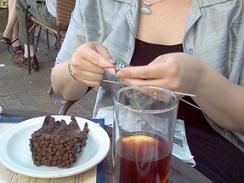 one more row until cake, one more row...






Twas a beautiful Ann Arbor evening. Moderate temp, light breeze, good wine & great company. Sure I only got about 6 rows knit, but heck the pattern I'm knitting has something like 125 sts per row! Denise, however, made good progress on her first ever sock & should be turning the heel soon. Libby learned the pitfalls of knitting with 2 strands of novelty yarn & went a-froggin a few times. A good time was had & we are thinking of doing this again next Thursday. However, that will most likely be at Casa Dominics where its cheaper & the Sangria is MUCH better.

So, did you notice how I slipped in that pic of Debbie Bliss Cathay without a single word beforehand? I was a really bad girl on Tuesday & spent $75 on that stuff at the lys. Lemme tell ya.. totally worth it. This stuff is really luscious. So soft & such a sheen! This is actually going to be for me! (gasp) An actual knitted top for me by me! This is totally unprecidented! Could this mean I'm becoming a selfish knitter? (unlikely)

Anywho.. I walked home slightly tipsy & happy to find this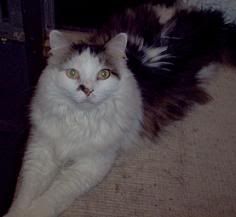 mom, you will never believe what
dad is doing!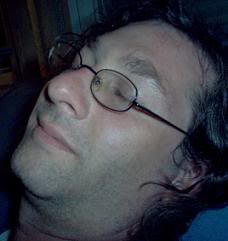 sleepy honey on the porch
(ain't he cute!)