I've been meaning to update for several days, but I keep getting distracted. So now you all get a long rambling post with lots of pictures! hee hee

First off.. I want to thank everyone for the name suggestions! Such wonderful names, it will be hard to choose! The submission deadline is tomorrow at 5 pm est. If you are interested, just pop me an email at
knitwhimsies@yahoo.com
. Btw- here is a glimpse of the prize...


It is still being spun, but will be finished soon. This is absolutely yummy, Salmon colored 100% merino. So softy & lustorous that I was repeatedly asked at Spinners Flock if it was a silk blend! There is 4oz, and the weight will probably be dk/sport once it is plyed. I will give all the specifics once it is done! XD

BTW- if you want to enter, but are allergic to wool LET ME KNOW! I have other fibers (silk, ingeo, angora) that I can do if you win!! :)

Next! I went to the Spinners Flock meeting this Saturday. I believe I will finally join next time I go. I had a wonderful time. Lynne , Jillian, & Carla were there..and I finally got to meet Heather! She is just so adorable! Seriously, about the cutest thing you ever saw! And very sweet! I am so glad I got to meet you!! Yippie!

Here are a few pics from the meeting. Alas, I wasn't able to get any of Heather....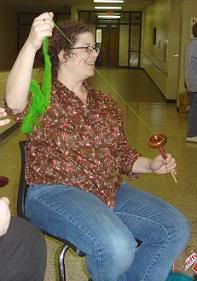 Jillian with the funky green!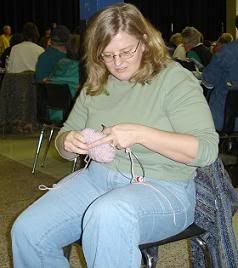 Lynne knitting her capelet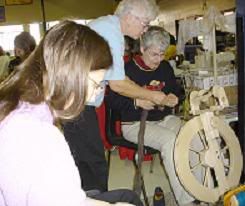 fellow spinsters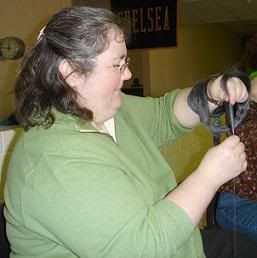 Carla spining the most gorgeous tencel blend!


In knitting news, I mentioned before I finished the back of Torgeir and have started on the front. Here are a couple pics of my progress.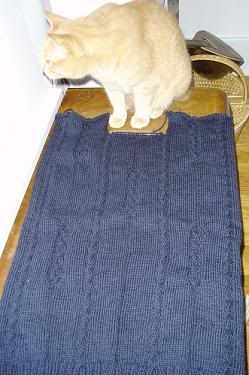 Windle is doing the faux shy pose
over the back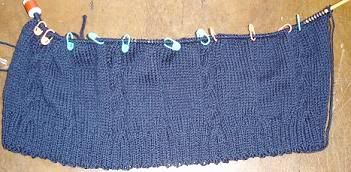 Current state of the front




I am also over half finished with the (bleep) for my sister Dawn. Wheee!

Oh! And I may have someone locally who wants to buy my Louet! She hasn't been knitting very long, and she has never spun before. If she is able to come to knitting tomorrow I am going to bring it & some fluffy bits for her to try out. I hope she wants it.. I sooo don't want to disassemble it & deal with ebay!!

OH! And I've got my tix for HP on Friday! How about you?? XD